The past weekend was filled with quilting fun for me. On Saturday I was able to attend a workshop with Edyta Sitar of Laundry Basket Quilts. It was a full-day class where we got to see many of Edyta's beautiful quilts featuring different star patterns. After her presentation, we got started making the Dresden Stars pattern, her variation on the traditional Dresden Plate with 3-D stars formed by inserting folded triangles into the seams between the segments. This is the pattern cover for our project which you can find here.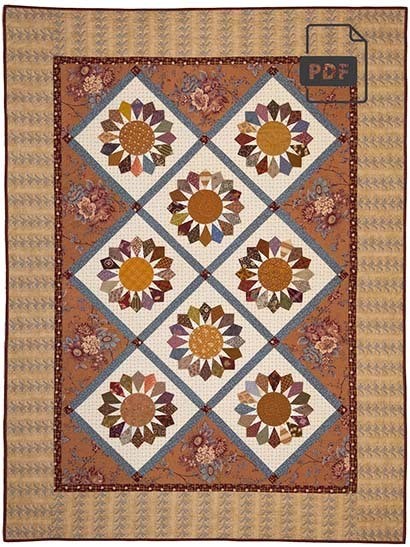 As part of the class, we each received
a kit with the
pattern, all the fabrics needed to make the eight blocks in this quilt, plus acrylic cutting templates. We provide our own fabrics for the centers of the blocks, plus setting fabric and borders. I managed to construct one block in class, plus two more on Sunday. I am currently planning to make a wallhanging with five blocks instead of the eight blocks in the pattern.
I got the idea that this pattern would make a good patriotic quilt, which led to the red & yellow version at the bottom of the photo. I made the pieces a bit larger, which took some testing to get things to fit together.
I was thinking a combination of blue and red blocks would be very striking.
My other project for the weekend was finishing up the borders for my yellow & blue 9-patch quilt. The top measures 38-1/2" x 45-1/2". I love the way the outer border fabric pulls it all together.
It's time for me to link
up to Patchwork Times
for Design Wall Monday. There is an incredible variety of ideas and inspiration there to enjoy, which is the reason why Monday has become one of my favorite days of the week!