It has been two weeks since my last stash report, so I have some catching up to do. For a change, there is a lot more going out than coming in!
Added to the stash: my monthly fat quarter bundle of solids from the Fat Quarter Shop, 3 yards total. Their theme for this year is birthstones, and alexandrite was an unfamiliar one for me. Seeing these fabrics makes me think it is a pinkish purple stone.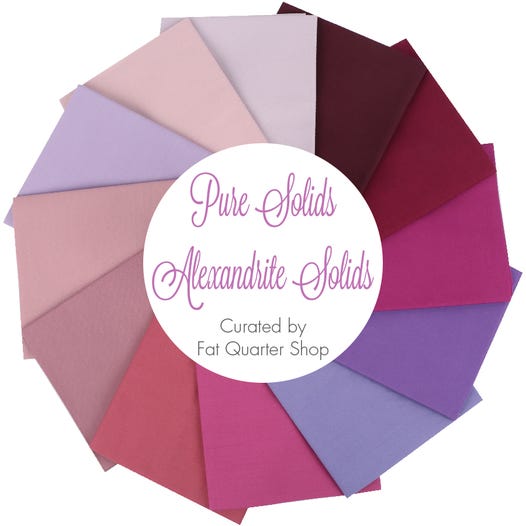 The reductions to the stash included 2.25 yards for the remaining Stack & Whack Triangle Squares blocks (see the earlier blocks HERE), plus 5/8 yard for the
Charm Baskets blocks that were shared in yesterday's post. Best of all, the quilt guild that I joined recently was accepting donations of fabric to be used in community service projects. I went through my yardage shelves and pulled the collection of fabrics shown below, mostly older pieces that I was ready to pass along. Total donated
to the quilt guild was 30.25 yards.
It was a very pleasant surprise, when I totaled up the stash additions and subtractions, to discover that my numbers were finally back in the black, with the net usage/outgoing for the year being 1/4 yard!
Used last week: 33.125
yards
Used year to date: 68.5
yards
Added last week:
3.0
yards
Added year to date: 68.25 yards
Net used in 2022
.25 yards
Kate's 15 Minutes to Stitch Challenge at Life in Pieces has us
tracking how many days each week we
get in at least 15 minutes of stitching time. This part of my report also covers the past two weeks. I missed two days of quilting while we were out of town, but I've been making up for it since then. I've been enjoying being back home and spending plenty of time in my sewing room every day!
15 Minute Challenge for 2022:
6/12 - 6/25
12 of 14 days
2022 Total
171 of 176 days
While we were traveling, I had a hand applique project along as usual. The current project is applique hearts. I only managed to finish three hearts, plus made a start on one more block. I need to get back to more regular hand stitching time in order to make better progress on these.
Julie in GA