This quilt has been hanging around my sewing room for far too long, but it finally got sent out this week and should be delivered to the new parents today. This is the Florida Fishies baby quilt!
Florida Fishies baby quilt, 40.5" x 47"
I made this quilt for a former co-worker and her husband who just had their first baby. Their baby registry included several items featuring whales, sharks and fish, all in the usual beachy colors plus grey. I knew this fish print would be perfect for their baby's quilt! The photo below is an item from their registry.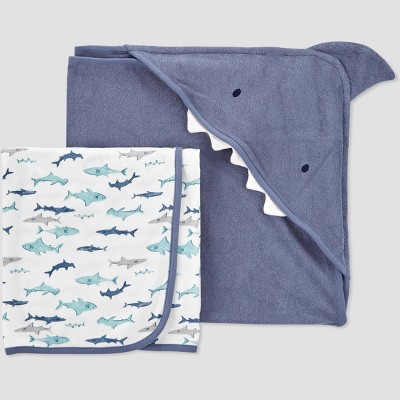 All of the fabrics in this quilt top came from my stash. The featured fish print is called "Mod Fish" by Michael Miller. My quilting was mostly straight horizontal lines along the seams, then I added some wavy lines between the fish.
The backing for the quilt is a cuddly teal flannel that looks like the ocean waves.
It's always a treat to make a quilt for a new baby, and this one was no exception. Welcome to the world baby Andrew!