The last of my Sew Colorful Stars blocks, one of my projects for the Rainbow Scrap Challenge, were made last week, and now I am trying to figure out how I want to put them together. Here is the design from the pattern cover, which uses the background fabric for sashing and a wider border.
My background fabric has a little bit of a pattern on it, but it's still mostly white. This is Pin Drop by Christopher Thompson for Riley Blake.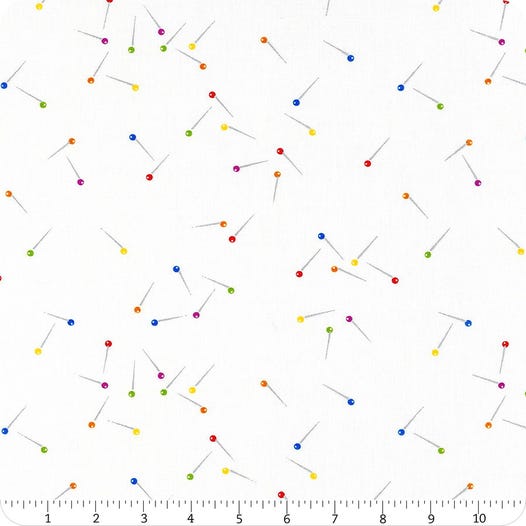 My concern is whether the quilt will be too much white. I've been considering some options for adding some color in the sashing/cornerstones. My first idea was little shoo-fly corners between the blocks.
Noooo! That is just way too bright and distracts from the stars. Maybe a paler color?
Maybe...That's definitely better. I could use a different color at each intersection. Should I go even lighter?
This one blends in so well that it makes me wonder "why bother?" What about that fabric as the sashing?
That's okay, but it's not telling me "Yes, yes, I'm the perfect choice!" (Don't your quilts talk to you like that?) Of all the options I've considered, my favorite is the pale aqua shoo-fly. However, as I look at all these options for adding a little something extra to the setting, I keep thinking they all distract from the blocks. After piecing all of those many triangles, the blocks need to be the "stars" in this quilt. I'm leaning toward following the pattern and using the same background fabric for the sashing and borders.
Be sure to check out all of the wonderful scrappy projects at the
Rainbow Scrap Challenge
every Saturday and at Oh Scrap! over at Quilting is more fun than Housework on Sunday.

Julie in GA