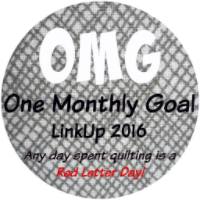 This is one of the Shooting Stars blocks that was started in a class I took in 2010. I made two blocks in the class, then two more last year and four more earlier this year. I think 12 blocks will be a good number for a throw quilt. Here are all the blocks that are done so far.
I haven't decided if I will go ahead with the tilted framing on the blocks like the two have at the top. My goal for July is to make some more blocks and get them all joined together into a finished quilt top by the end of the month.
In case you are curious about how to make this block, HERE is a tutorial for this pattern.
I'm heading over to the link-up for OMG at
Red Letter Quilts
to see what everyone else hopes to get done this month!
Julie in GA